Hullo there! I have found myself being M.I.A. from Livejournal more then I had originally intended. Far too many accounts on far too many websites can be to blame for that one (Tumblr, Facebook, Wordpress, etc.), but I did want to pop in and say hello to anyone out there who is still interested in what I have to say.

Also, I really wanted to share this photo: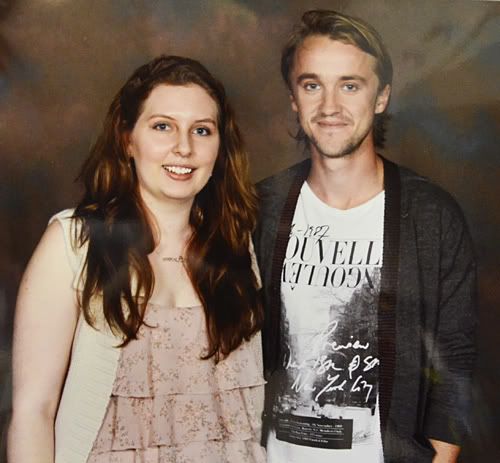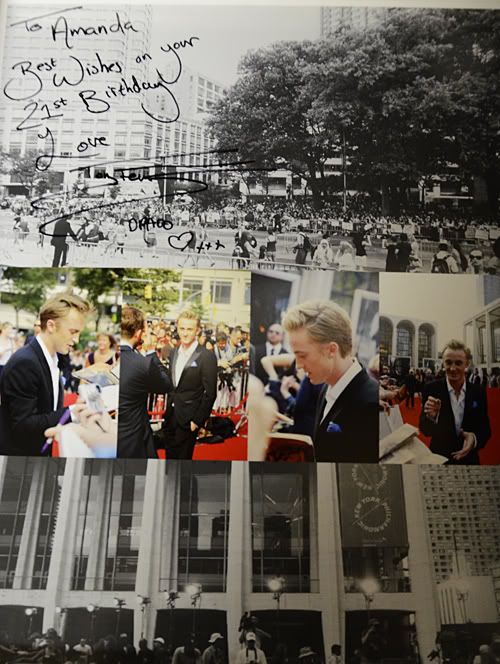 To Amanda

Best Wishes on your 21st Birthday

Love Tom Felton
(Draco) ♥ xxx

Today was the first day of Megacon! I only had a ticket for today, but that was a-okay with me, as I got all I wanted to do done today! I got a chance to actually chat with Tom Felton for a good five minutes.

Highlights of our conversation:

x. He started our convo by saying "Hello Lovely" and after I picked myself off the floor…
x. The woman who was taking our names asked if I wanted it personalized (duh!) and she wrote "It's my Birthday!" on a sticky note so he would know and I wouldn't have to look like a fool mentioning it!
x. He loved the collage I made from mine and my best friend's photos! He mentioned that he wished he could show it to his mom. Luckily, I had an extra copy with me and he now has that copy. Tom Felton now has something I made *dies*
x. We showed him our photobombing at the NYC premiere and he thought that was hilarious. I said, "We were just chilling in the back of a bunch of photos, chilling, well, actually, sweating!" And we then talked about how hot it had been that day.
x. He was just so amazing and how am I to find a boyfriend when he is so perfect, ugh!
x. He laughed when I said Alan Rickman snubbed me at the premiere and said that he was like that, very odd about autographs.
x. He said that after you turn 21, its all downhill from there, so I joked that I had been falling apart since 20. So glad my brain was on point today!
x. When I pointed out that he was reaching to sign my marauders map in one of the photos, he wanted to make sure that he had signed it.

I shook his hand twice just because I totally could. After the signing and another use of the word 'lovely', we wandered about the convention, taking pictures of people and all the cool Doctor Who, Star Wars and Steampunk things! Then around 3 o'clock we roamed back to line up for our photo. This was the craziest set up ever. We literally waited in line for an hour just to be zipped through the photo in under a minute. It was pretty much, "Oh, hello again *picture is taken* thank you!" but I did get a lovely "Thank you, sweetheart" to make me turn into goo again.

Gosh, he is the sweetest guy ever.

But I'm so glad I got the autograph signing and was able to have a conversation with him with lots of smiles, laughs, and eye contact *dies*

But *ahem* yes, that was my day. I'll probably post some photos from the day in a bit!

And that I am still around to answer questions about any of my sim related bits, even if I don't play anymore.